Top 5 Ellipticals In San Francisco For 2023
There are so many cross-trainers (aka ellipticals) to choose from and finding the right machine for you may be a challenge. 360 Fitness has assembled a list of the top 5 ellipticals on the market that are the best value for the money. Whether you are looking for an elliptical for home use, your health     facility, corporate head-quarters or training studio the 5 ellipticals below will get the job done.  Consider these four important factors when purchasing the perfect elliptical:
1. Who will be using the elliptical?
2. How reliable is the elliptical? Will it break down after 1 week of use?
3. How will this elliptical be used?
4. What elliptical features are you looking for?
Here are the top 5 ellipticals on the market:
The Octane Q37x Elliptical is a well refined machine. The brand Octane only builds ellipticals which shows their commitment to quality and performance in the elliptical machine class. The Q37x has all the qualities that an elliptical should have. Very heavy machine with multiple adjustments makes this machine the most popular elliptical in the Octane fleet.
You'll like this Elliptical if…

You want a machine that will not break down the Octane Q37x weighs 260 pounds which is one of the heaviest ellipticals on the market. The Converging Path Handlebars are scientifically designed to match the bodies arm motion perfectly. The ArmBlaster workouts provide excellent arm resistance if you are looking for an elliptical that is upper body friendly as well.
You may not like this Elliptical if…
If you are a person on the taller side. The Q37x has a 1.8″ Foot Pedal distance which is good for people who need shorter strides but may leave those that are tall wanting more extension during their workout.
_________________________________________________________________________________________________________________
One of the difficulties of finding the right elliptical to fit in your workout area is space. The E-40 elliptical has a small footprint compared to some of the bigger machines such as the Landice or Octane series ellipticals. It has a smooth look and due to its efficient design is very popular among physical therapy offices who need to utilize all the space they can get. It also has unique heart rate programs which make it one of the best in its class ellipticals.
You'll Like This Elliptical If…
You are looking for a reliable, efficient, space saving elliptical which great brand recognition from all exercise retailers. It sells because of its heart-rate monitoring capabilities.
You May Not Like This Elliptical If…
If you want something that can be used 8 hours a day 7 days a week. Weak display which doesn't offer many options if you are new to this machine and don't have access to professionals to provide you workouts to start off with.
_________________________________________________________________________________________________________________
3. Life Fitness E1 Elliptical Cross-Trainer
The Life Fitness E1 Cross Trainer is the perfect entry level model for someone looking to buy a great standard elliptical from a brand that builds quality stuff for home and commercial. Life Fitness is the most popular exercise equipment brand and it's name carries a lot of value among the exercise equipment marketplace.
You'll Like This Elliptical If…

The Life Fitness E1 Cross-Trainer has an amazing console with detailed display and many workouts to choose from. You can upgrade to a track console to obtain many more features that most ellipticals do not have. The E1 is durable and has iPhone connectivity standard.
You May Not Like This Elliptical If…
If you are looking for an elliptical that has transport wheels, cooling fan or audio options.
_________________________________________________________________________________________________________________
2. Landice E7 Elliptical Trainer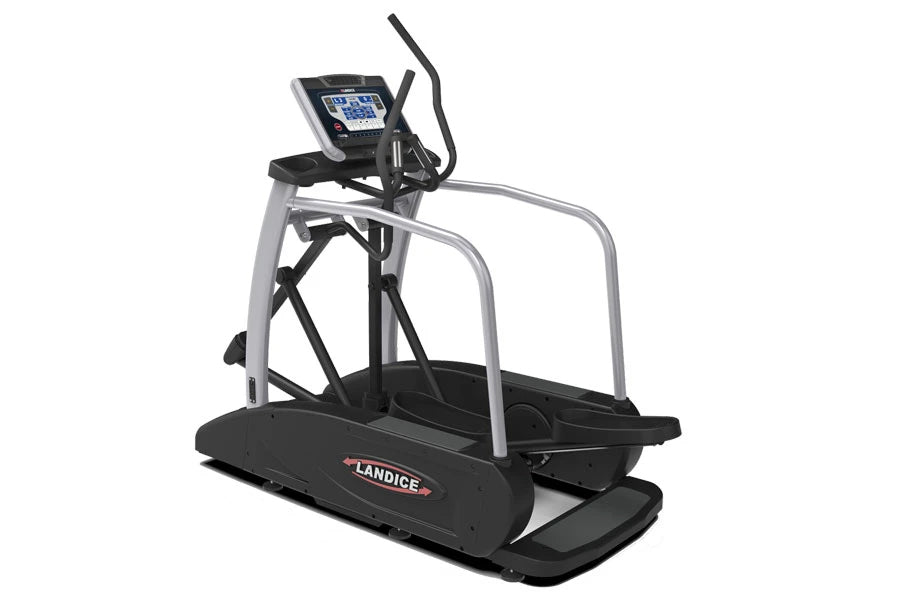 The Landice E7 elliptical trainer is the best solution if you are looking for an elliptical that feels like a treadmill. It's no impact design is the best for those who have knee problems or other type of leg problems. It is best suited for home or commercial use.
You'll Like This Elliptical If…
The E7 has 4 different consoles to choose from. The E7 has the most advanced console designs an elliptical can offer with touchscreen and global map destinations. The E7 stride length can be adjusted from 17″ to 23″ to suit all different heights. Quality that lasts and has great warranties.
You May Not Like This Elliptical If…
The E7 is BIG, EXPENSIVE and HEAVY.
_________________________________________________________________________________________________________________
1. Vision S7100 HRT Suspension Elliptical
The Vision S7100 HRT is a suspension elliptical which uses a whole different type of resistance to provide an effective workout that your body is not used to performing.
You May Like This Elliptical If…
The S7100 HRT if you are looking for an new take on the elliptical workout. Smoothest natural stride, professional feedback from blue backlit screen, you will appreciate the 17 different workouts to make this machine keep you guessing for years to come.
You May Not Like This Elliptical If…
We think the S7100 HRT is new to the market and its suspension technology is still relatively new and there is not much feedback on the S7100 HRT yet.